How To Become a Cam Model
Whether you're just an exhibitionist or strapped for a little cash, becoming a webcam model can be a unique opportunity to work from the comfort of your own home. Thousands of men and women alike enter the world of webcam performance with varying results. We hope this guide helps you in your decision to pursue this venture.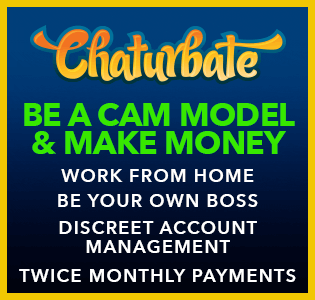 What are the risks?
First and foremost, it's important to understand the risks involved in becoming a live cam performer. If you're shy, hold a public position, or can't afford to have friends, family or co-workers find out about your performing, you should stop right here and move on to something else. While the odds of coming across someone you know may be slim, it does happen, and if it is something you can't afford to happen, being a cam model is not for you. There are millions of men and women searching for live cam shows every month, and these include everyone from your boss to your next door neighbor.
Besides coming across a real life acquaintance, there are other risks involved when performing for a sexually hungry audience. You'll want to keep your identity hidden not only in name but in the environment you are performing. This means coming up with a stage name and removing any identifiable possessions from your room. This includes pictures, posters, and anything else that may reveal your physical location and real life information. While deviant predators are extremely rare, they do exist, and it's best not to get in a position where you come across a stalker who is able to identify you. This goes with correspondence as well as we highly suggest not giving out your real name, e-mail address, phone number or anything else to the customers. While some will offer gifts and other temptations, it is important to conceal your identity for your safety.
Am I qualified?
Outside of being the legal age, there aren't many qualifications to becoming a cam model. You will need to be comfortable with your sexuality and able to show the customer a good time. Physically, just about everything works. While the majority of men and women performing are young, physically fit, and what one would consider attractive, there are is a huge audience for varying niches. From mature, BBW to transgendered, there is a market for everyone. While the niche performers typically don't have the biggest audiences on the cam sites, they have some of the most loyal customers, and usually can charge a bit more for their performance based on simple supply and demand economics.
The most important thing to grasp is that you should not let your physical appearance hold you back from performing. While you may encounter a rude individual here or there, we've found that performers of all shapes and sizes can make money online. In fact, your actual performing ability outshines your looks and the best performers make the most money regardless of their appearance.
We are a couple, can we do this together?
One of the most common questions we hear come from couples looking to get into the business together and performing with one another. While most cam sites out there have a special section for couples, it isn't always the most profitable niche to get into. Men are the dominant cam customers online and most prefer a one-on-one experience with the performer.
Another problem is just sheer biology. A man can only perform for so long and cam shows require a rigorous on and off routine. It can be difficult to perform for 5 minutes and then be off for 10 minutes before starting up again. It is why we recommend couples interested in doing cam shows to also do solo shows to maximize their profits. Couples also must share the profits and typically charge the same price as individual shows. The exception to this are lesbian cam shows which can typically charge a rate of 10-20% more than the individual one.
What do I need?
You'd be surprised how easy it can be to get started. First and foremost, you're going to need a private place where you can perform without interruptions with a reliable high speed connection. This place should allow you to show off your body, move into various positions, and not cause any lighting issues. Putting up a plain colored sheer on the wall or bed can be a nice way to draw attention away from your surroundings and on to you.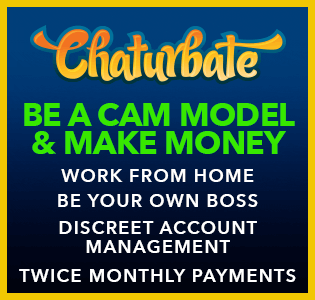 The next step is equipment, and many times can be overlooked by a novice. The better the equipment you have, the better quality shows you'll make and the more cash that will come into your pocket. A high end web cam is the minimum, while we also suggest going straight for a video camera that can be hooked up to your computer. Having functions such as a remote control to adjust angles and zoom are features that are becoming a necessity to be considered a top performer. This is not the area to skimp on and investing in nice video equipment is a huge bonus for newcomers.
Other equipment that is beneficial is a microphone to be able to transmit audio to your audience as well as a keyboard and mouse that can reach and be used while performing. Many customers will want to chat first to let you know what their fantasy is. Having sex toys and a variety of sexy outfits are also a plus in keeping a paying customer happy for as long as possible.
Where do I signup?
Now that you are ready to embark on your cam modeling career, it's time to signup. Almost every major cam site has an option to signup on the bottom of their homepage. Look for a link such as "Become a Performer" or "Become a Cam Model". You'll be required to enter some basic information about yourself and in some cases tax information. You'll want to stick with sites that are reputable, preferably the ones we list on our homepage.
Choosing the right site
There are tons of cam companies out there and each offer some advantages and disadvantages. It's important to read the fine print to find out when you will be getting paid and any other requirements the company has. For the most part, cam companies are broken into two major categories, the ones with free chats and the ones without.
We'll first look at the free chat option that is available at such cam sites as Cams.com or LiveJasmin. The free teaser chat as it's called is when potential customers enter a chat room with you and decide if they want to go in a private chat with you for X amount of dollars a minute. These rooms can get filled with beggars and those looking for free peeks. It can be annoying, obnoxious, and overall draining. But if you have a lot of drive, you can turn the freeloaders into paying customers with some careful persuasion. These chats give you the ability to make money right away by convincing people you are worth of a private show.
The other option is strictly a nude members only chat. This is when you perform and people come and go in your room as they please. Since these are typically not 1-on-1, the cost per minute is a little less, but if you build up a room full of perverted fans, you can cash in quite nicely. These shows are wall to wall performing, so you'll be earning your money with little to no rest.
The other thing to look for is how much you'll get paid and how easily you can find willing customers. While the industry average is 35% of the show's profits, you can occasionally find companies willing to pay more. Often times these companies are smaller with less customers and a higher need for performers. So while you may make more per show, you may have a tougher time actually finding willing paid customers. For newcomers, we recommend sticking with the big companies like Cams.com, ImLive, and LiveJasmin.
For your convenience, we have listed all the cam companies we recommend becoming a performer for along with a link to their respected signup pages: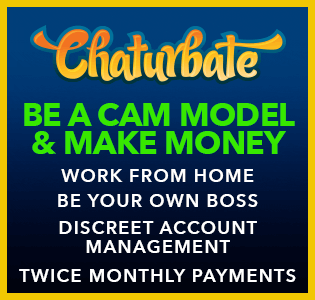 How much will I make?
This is a fairly open ended question that is near impossible to answer. Everything from the cam site you join, the amount of time you put into it, to the quality of your performance play a role. Over time you'll earn regular customers as well as a rating that other potential customers can see. This plays a role in how quickly you'll get action when you are available.
While you won't be retiring on a beach in the coming year from your work as a cam performer, many are able to make very nice income doing it either full time or part time. Some models earn in upwards of $2000 a week while part timers can earn between $50-$100 hour if they perform well. It's a service based business that allows the best performers to earn the most money.
Please check out our tips and tricks section for cam performers to see how you can maximize your profits.